8611701782744751
High grade materials and meticulous construction define this Coach laptop bag. It is sewn using signature coated canvas as well as leather
Laptop Bags for Men in Dubai, UAE
There are various types of Laptop Bags for Men that are manufactured using a piece of fabric such as or leather. These bags are typically a bit larger than the laptop, and that is designed to protect the device from bumps, scratches, water, and dust during everyday use. Some Laptop Bags for Men are referred to as laptop pouches.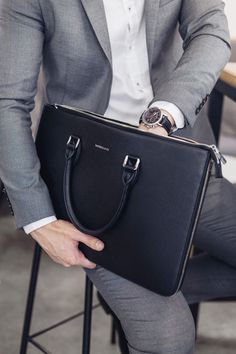 As a result, they are a convenient and lightweight way of protecting your laptop (or tablet) without having to carry a much bulkier more traditional laptop bag. As well as fitting into smaller bags, whether they are work bags or not, they can also be stuffed into larger ones. By doing this, a laptop in its bag can easily be fit into another carry bag, preventing the need to carry two bags at once. 
The last thing I would like to mention is the fact that Laptop Bags for Men are also seen as a fashion accessory that can add to a person's or company's style. It is a common practice for companies to customize their laptop bags for men with logos or designs that reflect the company's brand, so the bag can be personalized not only in a manner that reflects the company branding, but also with the company's logo. 
A great way to increase brand recognition can be achieved through this method. If you purchase personalized laptop bags for men in bulk, you are also likely to find them to be more affordable than if you buy standard bags from shops when you buy them in stock. Custom Laptop Bags for Men can be purchased in bulk online from a number of different sources where you can have your logo printed on them.
How are laptop bags made?
There are many materials that are used for laptop bags, and some of them may be better suited for different situations or styles than others, depending on the situation. 
The most common material used for Laptop Bags for Men is neoprene, and for a good reason, too. It is a traditional material that has been around for a long time. The Neoprene material offers more protection to the body because it is thicker and has a sponge-like texture, so it is thicker than most materials.
There are also other materials that are used to make laptop bags, such as leather and polyurethane (PU) leather. As a result of the higher cost of real leather bags, they can exude a more sophisticated style, however. It is quite common for PU/Vegan leather bags to look and feel exactly like real leather bags, but they can be quite a bit less expensive than real leather bags and can be used by vegans as well.
It is fantastic to see that other materials are now also being used for the manufacturing of bags, such as organic materials as well as recycled materials, which is something that is performing well in the market.
How do I pick the best laptop bag?
There are a variety of options when it comes to Laptop Bags for Men , and the most important is to take into consideration your preferences, such as how you will use the Bags on a daily basis, whether it will be used alone or in a bag, how much protection you require for your laptop or tablet, and whether you would like to consider custom colors and customizations.
It will be useful for you to list out a few options in your head and then head over to your favourite search engine and do a few searches there. In addition to giving you a good start, you also have some solid leads on where and how you can buy your laptop bags.
Is it waterproof to carry a laptop bag?
It is generally considered that Laptop Bags for Men  are water-resistant in the majority of cases. In most cases, a plastic material will repel water or liquid when it comes into direct contact with it, but not when it is immersed in it. Therefore, most laptop bags would be ok if you spilled a cup of coffee on them (again, this would depend on the material used). Furthermore, if you removed the laptop straight away, it would be unlikely to be damaged.
Does a laptop bag protect my laptop?
Therefore, if you want to keep your laptop from getting damaged, one of the best ways is to invest in Laptop Bags for Men. There are many benefits that laptop covers provide, but this is one of the most important ones. There are several times during the course of a trip that laptops are hit and knocked. 
As a result, it is highly advisable for you to protect your laptop against scratches by investing in one of these designer Bags. The laptop is an expensive device that needs to be treated with the utmost care and attention at all times. If you travel with your laptop, then a laptop case is a must-have if you want to keep it safe.
Multiple sizes of laptop bags
There are many types and sizes of Laptop Bags for Men cases available on the market today. There is a designer bag for any laptop, no matter how big or how small, to provide protection as well as make the laptop look fashionable. Using the online tool to check for the size of the case, you will be able to buy the perfect case based on the size of your laptop.