Ladies Handbags in Dubai, UAE
A woman's look is completed by an elegant Ladies Handbags in addition to trendy clothes and shoes. Fashion trends are changing, and handbags are becoming an essential part of every woman's wardrobe. A woman's clothing lacks pockets, so a bag is her lifeline when she wants to carry her essentials. Everything she needs can be carried in style.
Several of the most famous brands began producing their own designer handbag lines due to the rapid growth in demand for handbags. The one handbag every woman adores most and cannot live without. Recent years have seen a lot of changes in bag designs.
 Bags come in a variety of sizes and colors. The best can be chosen by a woman based on her preferences. To produce the latest handbags, brands that make Ladies Handbags constantly monitor market trends.
I believe that when it comes to handbags, there is no such thing as "too many Ladies Handbags", and that a woman can never have too many of them in her collection. These handbags are going to be trending in 2022 and they are going to be loved by a large number of people. 
What's in ladies handbags?
In the past, leather and other natural materials have been used to make the majority of the designs. In today's world, synthetic polymers such as polypropylene can be used alongside natural materials, and these can be moulded or woven, and come in exotic colours as well as translucent varieties.
Mini Shoulder Bags
Shoulder bags have been a trendsetter when they were first introduced, and now they are making a comeback in 2022 with a few changes made to them. Despite the difference in size between this bag and the original one, it is more convenient to carry and looks chic and trendy as well as being more practical to carry. 
Aside from the fact that these Ladies Handbags make a very good impression, they are also considered to be a style statement for today's generation. As well as being stylish, this bag pairs well with almost any outfit you wear. Therefore, the versatility of this mini shoulder bag makes it even more desirable as it can be used in a variety of ways. Besides lipstick, tissues, wallets, keys, and a whole lot more, it's very easy to fit everything you need in it. 
Chain Handle Bags
The trend of Ladies Handbags with chains has been around for quite a while, and it is likely to be the hot sellers of the year 2022. In order to create bag designs, many designers are turning to their creative side rather than the technical side. In terms of their size and shape, they are available in a variety of sizes and shapes.
 In order to flaunt it to your fullest potential, you can get one that suits your needs and style and flaunt it however you like. A chain handle bag has the advantage that it can be worn with both Indian and western attire, which is one of its best characteristics. You will be able to carry all your essential items in it comfortably and it will give you a stylish appearance with its stylish look.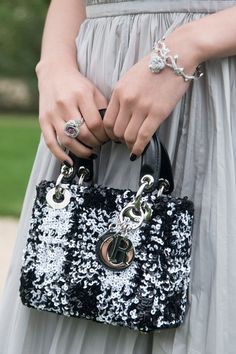 Totes Ladies Handbags
Since tLadies Handbags were introduced to the market, they have never gone out of style. Keeping up with fashion trends has been a challenge. Various materials can be used to make this large rectangular bag. Tote bags are typically made from cloth or leather. Designing this bag is very easy due to its simple shape.
Bag designs of various totes are not very diverse. On the shoulder, they are rectangular-shaped long bags. There are usually no more than two sections in a tote bag, but it can hold a lot. The design of a simple tote bag always works for brands that make Ladies Handbags. As it can accommodate many things, it is perfect to carry when you need to go shopping.
Duffel Ladies Handbag
In case you are planning for a short weekend trip or a getaway, then this is one of the must-have Ladies Handbags that you should have. Despite its excellent shape and size, it is aptly called the "weekender" bag because of its perfect shape and size. It is easy to identify this bag because of its horizontal and cylindrical shape, which has two handles attached to the top and a zipper on the side.
 Designed with the purpose of travel in mind, this bag is made from quality and waterproof materials that ensure it will last for a long time as it is specifically designed for travel purposes. Despite the fact that there are a number of travel bags that are available, the duffel bag is one of the most popular ones because it gives a stylish look and is perfect for those who prefer to travel light.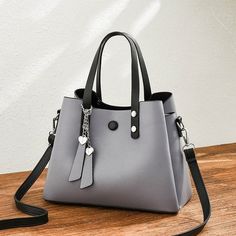 Cross-body Handbag
In addition to its name, cross-body bags are also known as sling bags because of the way they are carried. A typical bag of this type will have a small size with a long handle which means that the length of the bag will not be longer than the width of your waist. It can be carried to many places such as a social gatherings, a trip, errands, and even a social events. As a result of the size and the style of the Ladies Handbags, it is perfect to carry all the essential items in style while traveling.