-70%
8721700722475446
knitted, ribbed, lightweight knit, no appliqués, solid color, lapel collar, long sleeves, button closing, no pockets , Color: Light grey , Size:
Bags for Man in Dubai, UAE
There has been a man-bag as a staple of men's style for centuries. Men carried their personal belongings and food in girdle pouches in the Middle Ages, before pockets were invented: a far cry from the satchels, briefcases, and messenger Bags for Man we use today to carry electronics.
There is a growing blurring of the lines between menswear and womenswear today. A woman often borrows items from a man's closet and vice versa. The wearing of items made for women by men, however, is still controversial. Unisex clothes and accessories are becoming increasingly popular among designers. Everyone will feel included in this case.
There are many styles of men's purses from which to choose, such as Bags for Man, men's handbags, men's sacks, or even men's pouches. You can feel like a marsupial. If you ever carry a backpack, you might be laughed at by your friends. However, don't be surprised if within no time they're asking you to put their cellphone, keys, wallet, and water bottle in your bag every time you're out together. 
Bags for Man are on the rise for a number of reasons, one of them being celebrities who carry them on a daily basis. People are influenced by their favorite actors, singers, models, and influencers a lot more than any other group of people. The way in which our idols look, what they wear, what they do, where they go, and how they live, has always fascinated us as humans.
Is it acceptable to carry a man's bag?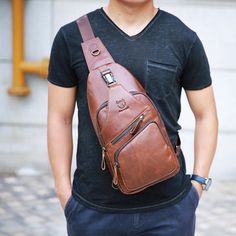 As long as you do not intend to have your pants saggy with the entire contents of your home every single time you leave the house, then we would agree that yes, Bags for Man are acceptable, providing you do not plan to do so. It is also necessary. 
As far as men's clothing is concerned, there are plenty of stylish and masculine options that you can choose from. If we do say so ourselves, then each man ought to own at least one of the nine bags on this list, as they are all extremely useful.
Is manbags a new trend?
A lot of men were seen carrying Bags for Man this year, not only because there were so many of them, but also because the styles they favored were gaining in popularity. Louis Vuitton became one of the most coveted brands of bags for men in the world as leather bags with large, bold logos became the most popular.
Bags for men in style
Whether a manbag should be a strap bag, a pocket bag, or a bucket bag is not a question of strict rules. There are many types of Bags for Man that can be used as man bags, including chest bags, crossbody bags, and backpacks. As long as it is made for men and worn by them, it is a manbag. The good news is that they are usually the same size as an iPad. 
This means that they are just right for storing your gadgets and essentials if you are looking for an iPad replacement. The bag can be worn on the shoulder, on the chest, on the side, or on the back, depending on who is wearing it and on how the bag is physically able to be carried, given that it is designed in this way.
The briefcase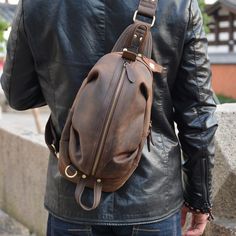 An umbrella, briefcase, newspaper, and a smoking pipe are all carried simultaneously by a bowler-hat-wearing British gentleman in a bowler hat. Bags for Man like this are a bit outdated. Despite its leathery appearance, his receptacle still has relevance today.
Briefcases are city workers' best friends. Buying a high-quality one can last you a lifetime because it's smart, practical, and economical. The sleek alternative to a bulky backpack is the perfect complement to tailoring since nothing ruins that Bond-like aura quite like an oversized backpack over your shoulders.
 The gym bag
It can be tempting to think up excuses why you should not go for a workout, no matter how experienced you are. It is easy to give up when you cannot find matching socks, or your phone does not have enough battery life. Avoid staying under the covers again because of a scratched, moth-bitten gym Bags for Man.
It's essential to have a sturdy bag for bringing protein, trainers, and towels. You just know that somewhere there are rippling abs and walnut-crushing glutes waiting to be freed.
Cross-body Bags
It might come as a surprise to those who think streetwear is just pretentious hype and/or exorbitantly overpriced irony: the cross-body bags for men is the most practical bag for everyday use. Most of us carry phones, keys, and wallets in a bumbag nowadays, unless we have a laptop or gym equipment.
In fact, across-the-body Bags for Man add an unexpected touch to an outfit, at least while they're fresh. It's likely that these bags will soon enjoy almost as much ubiquity as backpacks now that designers like Louis Vuitton's Virgil Abloh are pairing them with tracksuits and tailoring.