No products were found matching your selection.
Michael Kors bags in Dubai, UAE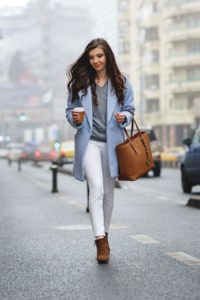 Women used to spend a few hundred dirhams on something that had the name Michael Kors bags on it back in the day, and these days it seems that those times are long gone since women aren't afraid to spend that amount of money. The Michael Kors bags brand remains one of the world's leading luxury brands, but it has lost some of the lusters that made it such a draw during its heyday in the early years of the brand's history.
As a label, Michael Kors is best known for the unique handbag designs that it creates and for its use of Saffiano leather, which is made with a process that was originally invented and patented by the Italian design house Prada. The leather has a distinctive diagonal pattern on the surface as well as a cross-hatch pattern that is machine pressed into the wax covering of the leather, creating a visually appealing pattern. 
The coating makes it possible to use a lower-quality, cheaper leather – but this drawback is balanced by the fact that it makes the leather more durable as well as more resistant to stains, scratches, and water as a result of the coating. 
What are the reasons behind the popularity of Michael Kors bags?
The Michael Kors bags have reached a ubiquity and fame that rivals that of Coach and Louis Vuitton, which are brands whose bags are renowned around the world. As a result of the popularity of the Kors brand, a number of factors can be attributed to it, most notably the fact that Kors is well aware and manages the brand's position on the global fashion stage, in his own style.
In the fashion industry, Michael Kors bags has lost its status as one of the coolest brands because of its lack of innovation.  In its "Best Ideas" section, Michael Kors was listed as one of the best ideas. Since the beginning of the year, shares of the company have risen by 37%. During the last few years, Michael Kors has enjoyed a spectacular rise in popularity thanks to the trendiness of its handbags and watches.
The bags made by Michael Kors are made from what kind of material?
Saffiano leather is the most common material used in Michael Kors bags. As a result, Michael Kors bags have almost become a trademark in their own right. The leather used in this type of product is extremely durable. There is a water-resistance as well as a scratch-resistance in this product.
Michael Kors has announced that he is also going fur-free this year, joining the list of brands that are doing so. Michael Kors Holdings Limited, the parent company of Michael Kors and Jimmy Choo, the brands which belong to Michael Kors Holdings Limited, has announced that it will cease using animal fur in the manufacture of its products at the end of next year.
What is the quality of the leather used in Michael Kors bags?
Most of the bags and purses made by MK or Michael Kors bags use animal leather or real leather for their purses and handbags, which is according to the maximum custom leather bag maker brands.
It is textured leather, meaning that its surface has a cross-hatched finish created by a specialized stamping machine being applied to the leather in order to create a cross-hatch pattern. Wax treatment is applied to the full-grain leather to further enhance its appearance. The leather, as a result, is highly scratch resistant, durable, and exceptionally easy to clean, which gives it a long, lasting life.
How much do Michael Kors bags cost in Dubai?
The handbags designed by the designer are often adorned with an MK print, have a branded lining, or feature the designer's signature keyring. Moreover, according to the Chicago Tribune, Michael Kors bags pieces are easily identifiable because they will have a large MK logo on the front or have the designer's name on the back, depending on the style. Handbags made by Michael Kors bags range in price from 370 AED for a small one to 550 AED for a larger one, and limited edition purses may cost upwards of $500 for the most luxurious ones.
In light of Michael Kors' mid-priced  michael kors bags uae line, which is its mid-range line, the company. The association between the brand and department stores such as Macy's has led Newsweek to say that the brand has become overexposed, visible everywhere and, in turn, less luxurious as a result.  
Besides suffering from the lack of consistency in pricing, Saunders explained that Michael Kors suffers from having a variety of labels, offering products at different price points, under one brand. A Michael by Michael Kors clutch bag is available for a little under 200 AED at Macy's last act clearance section for 9,000 AED, so it is difficult to justify a 9,000 AED Michael Kors Collection handbag.
Obviously, with a designer like Michael Kors, it's advisable to wait until the design you want goes on sale (because chances are, if you've spotted it at a department store like Macy's, it'll soon go on sale), or to take a look at off-price retailers like TJ Maxx or Nordstrom Rack to take a look at on offer.
Related Links:
michael kors handbags dubai | michael kors bags in dubai | michael kors bags uae | michael kors backpack uae | michael kors bag uae | michael kors bags uae price | michael kors tote bag uae |michael kors uae | mk bag price in uae | carpisa bags mk | caprisa mk | mk bag for men