8721701927017097
techno fabric, brand logo, multicolor pattern, zipper closure, internal pockets, 2-piece set , Color: Mandarin , Size: –
Travel Bags for Men in Dubai, UAE
There have been many changes in the way we travel today compared to how it was before 2020, however that doesn't mean that travel has completely stopped. As a matter of fact, people seem to be more eager than ever to get out and explore because they have been grounded (for the most part) for so long. 
If you are one of the many people who are getting ready to travel, be it by plane, by car, or anything else you have planned on your calendar, then you are certainly going to want the bestTtravel Bags for Men to help you get from one place to another.
Having said that, we found that there are the best bags for travelers of all sizes, from small to large. If you are going on a weekend trip or making a quick business trip, it may be necessary to have a backpack as well as a duffel bag with you. As an alternative, maybe you have an upcoming long trip to look forward to (or you are looking for extra space for carrying any souvenirs back home that you would like to bring back), and you are looking to upgrade from that old worn-out suitcase to something newer and larger.
Make sure your travel bag is compact
Despite the fact that the designer travel Bags for Men you have been eyeing for a while now is stunning to look at, you need to evaluate how practical and functional it will be for you when you need it the most. It is very important that you choose a travel bags for men that can fit into every airplane's cabin, every vehicle's boot, and any hotel's/hostel's room with ease. As a result, it would be wise to buy a compact travel Bags for Men if you want to travel light. To save space further, you could opt for a collapsible suitcase.
Choose a lightweight Travel bags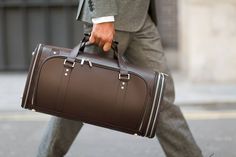 A trip can be dampened if you are charged for extra baggage at the airport. You will be at a loss if you own a travel Bags for Men that is heavy, even when it is empty, and this makes you feel uncomfortable. If you are going to buy a travel bag, make sure that it does not weigh over 3kg for you to have enough chances of stuffing it! It is your choice whether to select a hard shell suitcase or a soft shell suitcase based on your needs. 
When you usually travel bags for men with fragile items, or you travel to places with low security or high rainfall, you are recommended to buy a hard case suitcase to protect your belongings from damage. As opposed to soft shell ones, these are not expandable, lack outside pockets, are less durable and are more likely to break or scratch faster than soft shell ones.
Personalize your travel bag with a unique color
Buying a travel Bags for Men that is unique is an excellent way to save time when going on a trip. Are you looking for something funky and purple to carry around with you? Alternatively, if you don't want to experiment with colors, you might want to consider adding a travel tag or a bright-colored ribbon to the handle of your bag so that it is easier for you to recognize it even from a distance.
A quality travel bag at a reasonable price
Of course, price is a major deciding factor when it comes to picking out the right travel Bags for Men, but do not let it be the only one to consider. It is important to remember that your travel luggage is an investment that will last for a long time; therefore, you should select it carefully. 
The product must be durable, and that is not going to come at a cheap price. The most important thing you need to focus on is getting the most value for your money, instead of focusing on getting the lowest price. Ideally, it would be best to go for a branded suitcase as they usually come with a warranty which means you do not have to worry about anything. Watch for it to go on sale if you don't want to spend a fortune.
Make sure the bag you choose has wheels and a telescope handle
Airport walks can be long and tiring, which is why you will be glad that your luggage can be wheeled and has a comfortable handle so that you will not feel uncomfortable. As for the handles, you should select a travel Bags for Men with a retractable handle that is able to be adjusted according to the height of the person carrying the bag, so that the handle can always fit your hand. 
Due to the fact that they are capable of maneuvering through cramped spaces with ease, four-wheel suitcases are generally considered to be more comfortable for travelling. Due to the fact that they have external wheels, they can be a little longer than typical suitcases due to their external wheels. When choosing a four-wheeled travel Bags for Men, you should ensure that it is of the right size before you buy it.
The best rolling duffel bags for travel
It is a great idea to have a rolling duffel bag if you like the bags sizing and spaciousness that come with a duffel, but don't prefer to carry them by hand and want the convenience of wheeled luggage. There are a lot of advantages to them, and they look way more attractive than a traditional duffel, which is all that matters in the end.